Doctors
Andy M. Lee, MD, FACS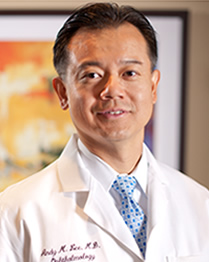 As a boy, science was my favorite subject. So it was no surprise when I declared pre-med as my major at Rice University. Although I enjoyed several specialties while in medical school, two personal experiences led me to the field of ophthalmology. At a young age, I was saddened when my grandmother lost her sight to an eye condition called glaucoma. Then in college, a Rice University alumnus named Dr. John Lynn offered me a summer job. The late Dr. Lynn was a highly respected ophthalmologist who employed me to do research and diagnostic testing in his clinic during my summer vacations. I knew ophthalmology would be personally and professionally fulfilling for me and it has been.
As a Board Certified Ophthalmologist, I joined Total Eye Care shortly after completing my training and education in 1997. I obtained my medical degree from the UT Health Science Center Medical School, Houston and then completed a residency in Comprehensive Ophthalmology at Tulane University Medical Center in New Orleans.
I stay active in the larger medical community by serving as Assistant Clinical Professor of Ophthalmology at UT Southwestern Medical School, Assistant Clinical Professor of the Methodist Charlton Family Practice Program, and Medical Director of North Texas Surgery Center. I am grateful to receive Service Awards from UT Southwestern Medical School's Department of Ophthalmology.
I maintain hospital privileges at Methodist Charlton Medical Center, Methodist Dallas Medical Center, Parkland Hospital and North Texas Surgery Center.
I am a member of several professional associations including the American College of Surgeons, American Academy of Ophthalmology, American Society of Cataract and Refractive Surgery, Research to Prevent Blindness, and Dallas Academy of Ophthalmology. I contributed several articles published in peer-reviewed journals and have been a presenter at several medical meetings and conferences.
I am blessed to work in Duncanville where I proudly graduated as Salutatorian of Duncanville High School. I was honored to be the commencement speaker at the Duncanville High School graduation in 2012. Another highlight is being profiled by my alma mater. Please check it out here. In my free time, I swim for fitness and enjoy camping and spending time with my wife and 3 sons.
Thank you for your interest in our practice. It would be a privilege to get to know you and to care for your eyes.
Nalini K. Aggarwal, MD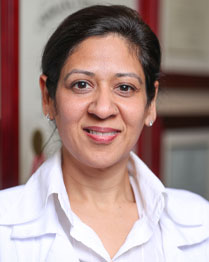 It is an honor and privilege to serve as a physician specialized in the preservation of vision every day.
Growing up in Washington DC, with two parents and three siblings dedicated to the lifelong practice of medicine, I was immersed in fascinating experiences in all aspects of medicine at an early age. It was when my grandfather began to lean on my shoulder to battle irreversible blindness from Glaucoma that I vowed to dedicate my life to the education, prevention, and treatment of this silent yet devastating disease.
By age 18, my family had become Texans. I accepted the opportunity to pursue a combined undergraduate-medical degree (BSMD) in English and Biological Sciences in New York. After graduation, I completed an internship at Albany Medical Center and then Ophthalmology Residency at Lions Eye Institute. There, I was fortunate to have renowned mentors from Harvard and Will's Eye Institutes who had profound influence in Ophthalmology and also on me. Working closely in their offices and operating rooms allowed me not only to research and publish cutting edge studies on eye disease, but also to experience the humility and strength needed to be steadfast guardians of sight.
I happily returned home to Texas for my Glaucoma fellowship at UT Southwestern Medical Center where I stayed on as faculty and medical director of service for almost 8 years. Surrounded by strong leaders, I grew exponentially in leadership positions in ethics, institutional review, and quality assurance, sub serving to the highest standards of care. The best part of my role there was teaching the ophthalmology residents which I still do as Associate Clinical Faculty.
I am so grateful for the opportunity to be part of the impeccable family at Total Eye Care where I feel I can bring both the expertise and the tailored personal attention I value, to each and every patient I meet.
I look forward to sharing your stories and some of my own, and possibly some milestones along the way from my husband and two very active children, who love to hear anecdotes about these very same experiences that fascinated me as a child.
Boi-Dieu Nguyen, OD.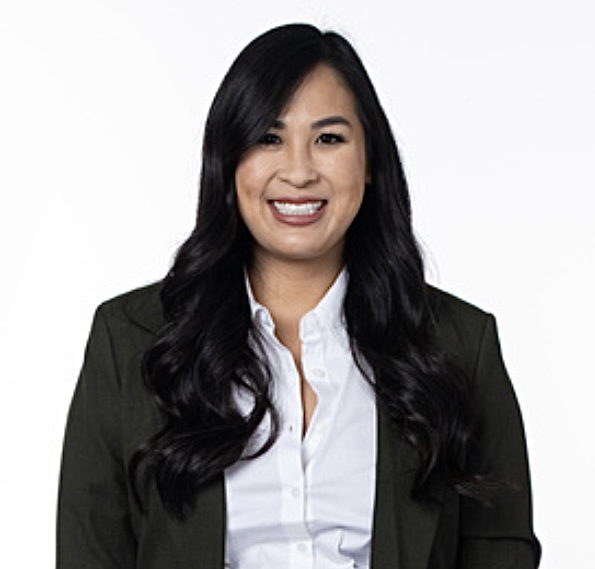 Originally from Louisiana, I have called Texas home since the second grade. I attended Baylor University for my undergraduate degree then went on to train in San Antonio at Incarnate Word Rosenberg School of Optometry. I graduated with honors, including being a Gold Key recipient and a member of the Beta Kappa Sigma Optometric Honor Society. During my training, I concentrated on gaining knowledge in ocular diseases, as well as refractive and cataract surgeries while rotating at the VA Hospital in Amarillo and The Eye Center of Texas in Houston. After graduation, I continued to grow my medical and surgical knowledge by working in ophthalmology clinics across the DFW metroplex. I have a strong passion for patient education and improving vision.
With the prospect of improving vision for many people, I love to participate in mission trips. I have been to Oaxaca, Mexico and Honduras with organizations like One World Surgery and VOSH. I enjoy giving back to communities and providing care for underserved populations in the world.
I am a licensed Therapeutic Optometrist and Optometric Glaucoma Specialist with the Texas Optometry Board. I am a current member of the Texas Optometric Association, American Optometric Association, and Dallas County Optometric Society.
I currently reside in Dallas with my boyfriend. When I am not seeing patients, I enjoy travelling to all places near and far and trying new cuisines. I am always up for a new restaurant in the DFW metroplex.
I am excited to be a part of the Total Eye Care team and eagerly look forward to getting to know our patients and serving the families in this community.
OUR PHILOSOPHY
Total Eye Care … Even After Surgery
SM